Reliable Marine Performance with the Trojan SCS150 12V Deep-Cycle Flooded Battery
Trojan Battery Company is the world's leading manufacturer of deep-cycle batteries for Marine applications. From deep-cycle flooded batteries to deep-cycle AGM and gel batteries, Trojan has shaped the world of deep-cycle battery technology with over 85 years of battery manufacturing experience.
The Trojan SCS150 12V Deep-Cycle Flooded Marine batteries are tough and offer high amps when you need it. The SCS150 is designed for Marine Applications where they are heavily cycled in corrosive environments. Under these heavy deep discharge cycles expect long service. Strong in the field, these batteries have an excellent reputation for robustness and many duty cycles.
Key features of the Trojan SCS150 MOTIVE 12v Marine Battery are:
Handles enable easy lifting in tight spaces.
Dual marine terminals allow you to hook up all of your electronic gear.
Large vent caps on deep cycle models reduce the potential for acid leakage.
Great for solar energy applications, marine, RV, and a variety of other applications.
Trojan Batteries T2 Technology
1. Alpha Plus® Paste with T2 Technology™
MAXIMUM OPERATION PERFORMANCE
Trojan's Alpha Plus Paste is a proprietary, high-density paste formulation precisely engineered to deliver outstanding battery performance. This high-density paste optimizes porosity development in the active material utilizing the active material more effectively, resulting in sustained battery performance over a longer period of time.
Trojan's T2 Technology introduces a patent-pending T2 metal agent into our Alpha Plus Paste, further strengthening the electrochemical processing capabilities of Trojan's Alpha Plus Paste. Together Alpha Plus Paste with T2 Technology increase both sustained capacity and total overall ampere-hours, resulting in more operating power for your application. It's a key reason why Trojan batteries consistently outperform the competition.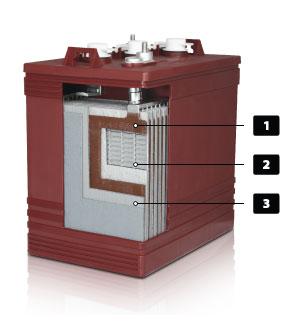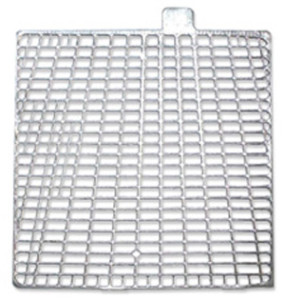 2. Trojan Grid Technology
REDUCED DOWNTIME
Trojan's grid technology is a lead antimony alloy grid mixture formulated specifically for use with Trojan's Alpha Plus Paste with T2 Technology. The grid formulation provides exceptional structural adhesion between the Alpha Plus Paste and the grid frame. Thick grids reinforce the strength of the frame and reduce corrosion. The overall grid configuration is optimized to enhance current flow through the grid network providing exceptional battery performance, reducing downtime and lowering maintenance costs.
3. Maxguard® T2 Separator
LONGER BATTERY LIFE
Exclusively available in Trojan batteries is our Maxguard T2 advanced separator. Trojan's Maxguard T2 separator features a multi-rib geometry which keeps acid channels open longer, enhancing electrochemical processing while reducing the risk of stratification. Maxguard's proprietary rubber-based material inhibits antimony transfer between the positive grids and negative plates; a protection not available in many other competitor batteries.
A newly fortified, thick back web provides even greater separator strength resulting in a more robust battery, with increased protection against failures caused by separator degradation. Trojan's Maxguard T2 advanced separator sustains performance providing exceptionally longer battery life and significantly lowering your operating costs.