Golf Cart Batteries
Buy online, pickup and have them installed in-store.
The largest selection of Golf Cart Batteries ready for pickup.
// Go the distance with the bets golf car batteries on sale from Advantage Batteries. Get the best deals on the trusted brands in the Golf and utility vehicles such as: Trojan Batteries, Crown Batteries, Continental Batteries, RELiON, and Eco Battery to name a few. We are a direct distributor of golf cart batteries in Florida and authorized dealers for Club Car, Yamaha, and EZGO Golf cars. //
Top Battery brands.
Trusted by the Golf Cart Community.
Looking to upgrade your Golf Cart with a new battery? We've got you covered. Discover the reliability, performance and innovation of battery technology that can increase your range, power, tow capacity and overall performance of your golf cart or utility vehicle. Shop brand like: Crown Batteries, Trojan Batteries, and RELiON.
Brands Carousel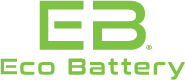 The unmatched power of Lithium.
The RELiON InSight Series™ 48V lithium iron phosphate battery is a GC2 sized drop-in replacement battery that delivers high-quality performance, power and precision. This 48V 30 Ah battery was designed specifically for golf cars, utility vehicles, LSVs and AGVs.
Golf Cart Batteries in Stock Now